As sang the great Freddie mercury: «If you can't beat them join them» Apparently, top managers of Google often are listening to the band ''Queen'' too, once decided to team up with a market leader in search engines Runet Yandex. The Speech isn't about the partnership «on all fronts», the company will cooperate only in the field of media advertising, but the beginning is started.
Partnership within Yandex and Google assumes that clients of Russian companies will be able to use the platform for displaying media advertisement that belongs to the Americans, and Vice versa. Specifically, the platform of Americans DoubleClick Bid Manager will be connected to the RTB Yandex system, while the Russian search engine AWAPS — to RTB-Google (the DoubleClick AdExchange). More clearly, all this is reflected in the diagram below: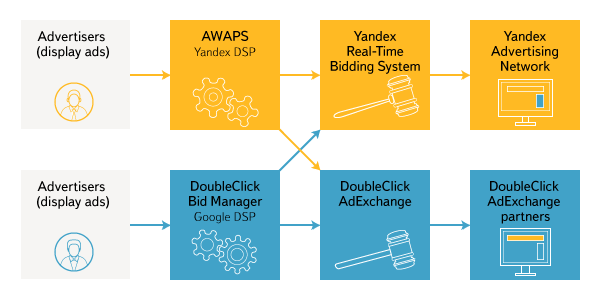 Representatives of Yandex noted that the integration of advertising platforms, as expected, will take several months.